X
Features
This geometric print racerback sports bra is designed for high impact sports. It's zip front closure ensures easily on and off. The shoulder strap mesh design provides a breathable feeling.
Product Code: HM0130001
Material: 80% Polyester 20% Elastane
Cups: Non-removable molded cups with soft microfiber lining to reduce repetitive friction injury.
Machine wash.
Do not bleach
Do not iron
Do not dry clean
Wash Temperature 30℃
Customer Reviews
10/15/2020
Crystal
United States
Love it!
This was my first purchase from Yvette after hearing about them from Plantiful Kiki's YouTube channel. Finally a sports bra that fits great and the quality is outstanding for the price!! I will be purchasing more from this company!
06/27/2020
Vero
United States
Great Bra, cute and supportive
The bra is comfortable, easy to wear and with very good support. Shipping time are not the best (almost a month) but it's worth the wait. If I owned the company I would specify the expected shipping time to not make anybody mad. I tried different models. The best are the ones with the front zip.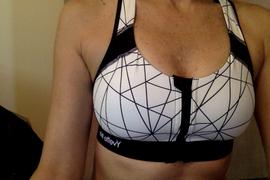 05/21/2020
Nataliya .
United States
10/17/2019
Katherine C.
China
This is my favorite Yvette Sports Bra yet
This is my favorite Yvette Sports Bra yet :) I love the style, zip front, full coverage cups, and back mesh panel detail that wicks away sweat from my back. Highly recommended for these reasons and the fact that it is so easy to pair with black leggings and looks different and fashionable.
10/17/2019
Amazon C.
China
I really love the bra
I really love the bra, because is very cute and the design of the fabric is great! It's incredible comfortable and sexy with the zip front. Fits well, the fabric feels good, look expensive, in short the product is worth the price. I start to work out last week and this came just in time! Really like the high support and my ******* are not oppressive, definitely 5 starts product! I'm really happy!