Customer Reviews
10/17/2019
Lotus
China
Good sports bra
Fuller coverage on the back - Most sports bras I see are racerback style or something equally unflattering for those of us who have lovely back fat.Easy to put on - Zips all the way off so the zipper isn't fixed at the bottom. No need to shimmy it up your legs or wrestle with pulling it over your head.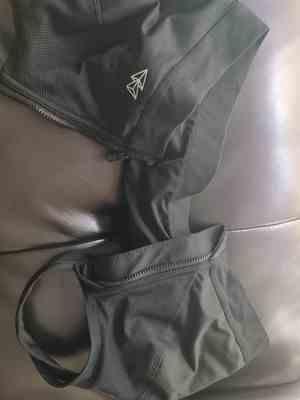 10/17/2019
MKPersisted
China
it fits PERFECTLY
I ordered 2, and they are lightweight and sturdily constructed. Zipper arrangement is great. Bless whoever thought of a sports bra that closes in the FRONT - I have actually thrown my back out trying to get out of the all-elastic-thingies. I wear this for running, and there's zero bounce - AND probably the most comfortable sports bra I've ever had.
10/17/2019
Tamara
China
Genius! best bra ever!!
This Bra addressed all my needs. It's comfortable to wear, has a hook behind the zipper and what I didn't even think about was this bra has a small slip of material that goes over both ends of the zipper so that it doesn't catch on your top! GENIUS!!!! I'm ordering more!!!!
Features
This front zip racerback sports bra is designed for high impact sports. Ventilated fabric wicks sweats away and send you comfort. Unique design helps you move freely without chest pad.
Product Code: SU6015
Material: 90% Polyester 10% Elastane
Cups: No chest pad, shape of your body
Machine Wash
Do not bleach
Do not iron
Do not dry clean
Wash Temperature 30℃