FEATURES
This sports bra is designed for low impact workouts. A plunging neckline and twisted design on the front ensures more airflow.
Product Code: S100121A
Material:76%Polyamide 24%Elastane
Cups: Removable padded cups can be taken off easily.
Machine wash.
Do not bleach
Do not iron
Do not dry clean
Wash Temperature 30℃
Customer Reviews
08/29/2020
Denise
United States
Wish I had this bra in every color!
I normally only buy the high impact bras, but since every style has fit so well from here, I bought this one to try when it was on clearance. I have a difficult time with regular bras actually fitting me. I was worried about this one because it looks more like a regular bra than a sports bra as you can see in picture. I'm a 32d with very little "boob" on top, but ample tissue on the bottom and a lot of side boob which is why bras never fit well. I don't know how, but wow! My boobs look amazing in this bra! Yes, I'll wear it when I'm going for a potentially sweaty walk, but it looks so nice on that I wish there were more left and in every color so I could wear it more often! I know the chart says light support, but it definitely gives me medium support! (My 50yr old boobs need all the help they can get to stay up vs sagging lol, and this bra is like magic!) It's not quite as comfortable as just a plain bra but I wear it as one sometimes because it makes my chest look so nice! I hope they get more of these because I would definitely buy again!!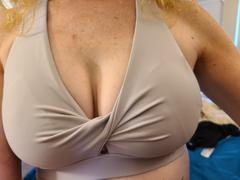 07/13/2020
W.
Canada
Super Cute!
The materials used to make this bra were very high quality and super duper soft. I ordered a size M(A-C) and it fits great and the sizing chart is true to size, when you take your measurements correctly. Putting the bra on is easy as long as you don't get confused with the straps, haha. It's very comfortable other than the fact that on mine something on the back strap is a little itchy, could be the silky tag but I'm not 100% sure and I don't want to risk it by cutting it off and making it worse. Overall I love the fit and the style!