FEATURES
This sports bra is designed for low impact sports. High quality fabric ensures a flexible stretch with good elasticity. Hollow out design helps you keep cool, while the pattern is vividly.
Product Code: S100208B17
Material: 81%Polyamide 19%Elastane
Cups: Non-removable molded cups with soft microfiber lining to reduce repetitive friction injury.
Machine wash.
Do not bleach
Do not iron
Do not dry clean
Wash Temperature 30
℃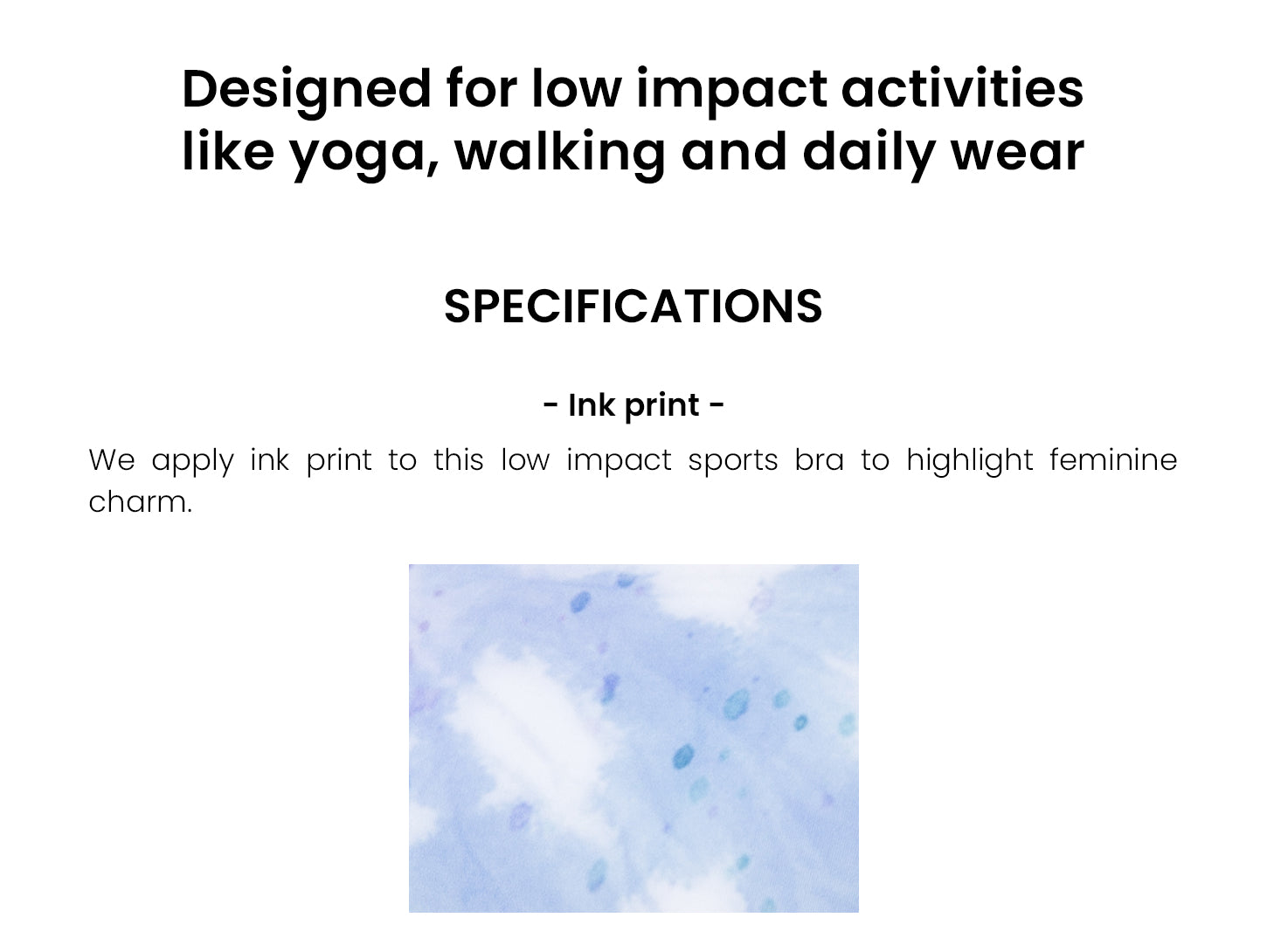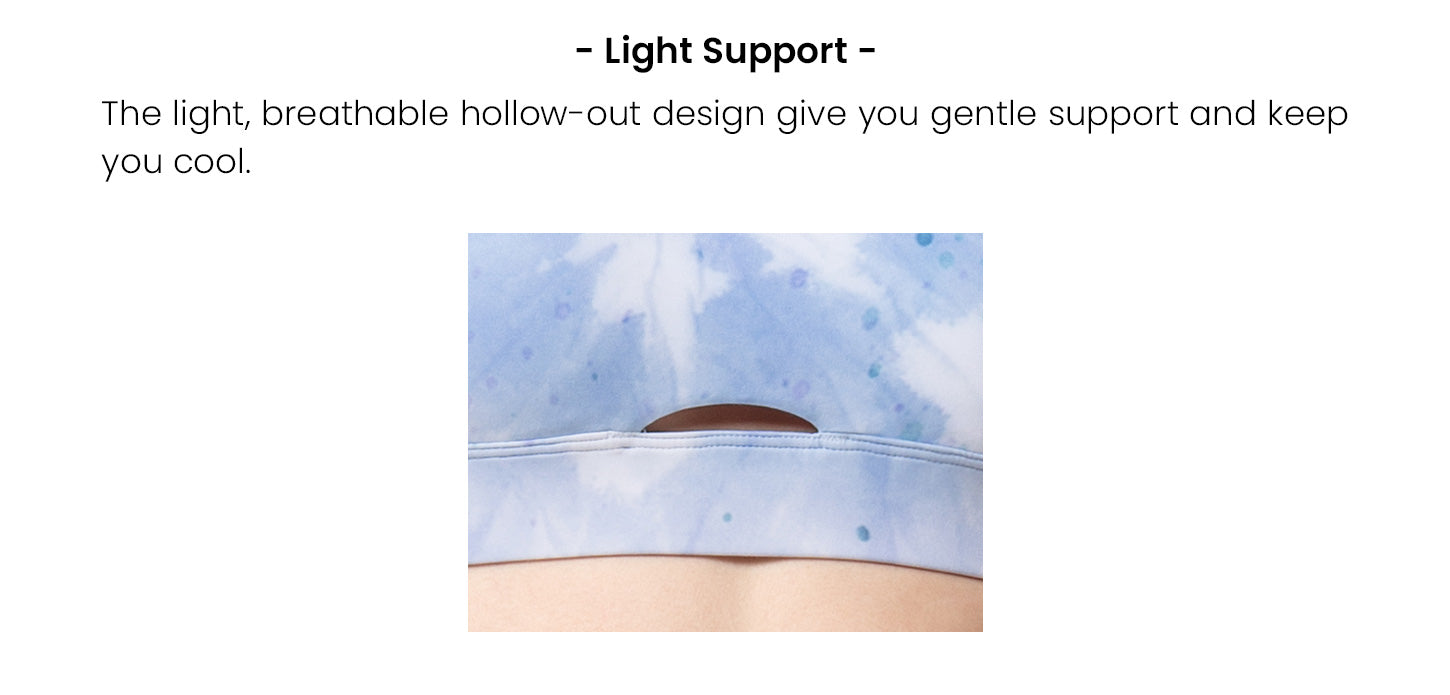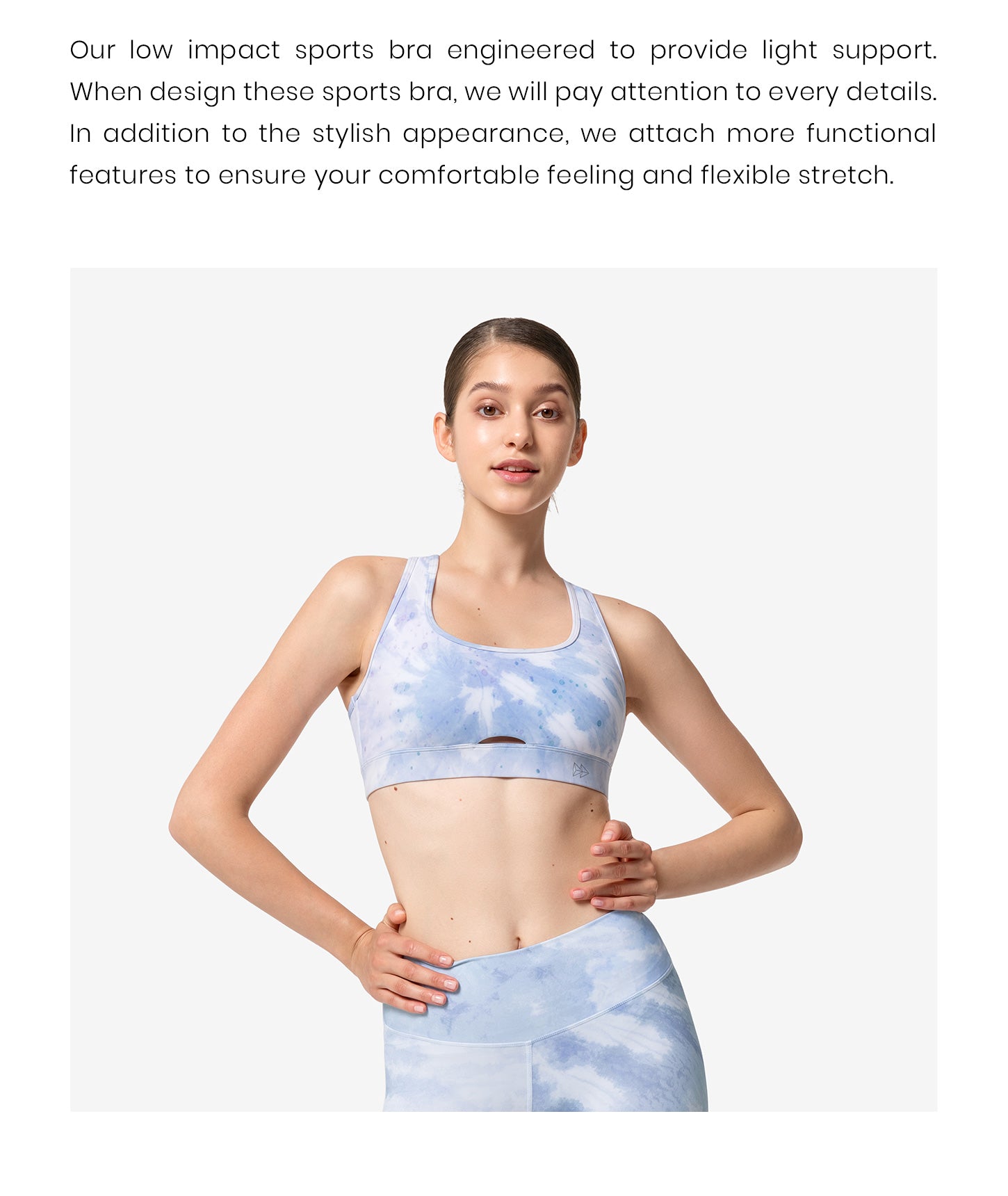 Customer Reviews
08/24/2020
Corinne
Hong Kong SAR China
Extremely comfortable! Wish I'd bought this earlier.
I don't usually like sports bras without cups built in, but this one is great. It's definitely not for a super high impact workout, but if you know that going in it definitely meets expectations. It fit exactly as I expected, and the color was true to the photo. This is a great deal for a high quality sports bra. The material is stretchy, movable, comfortable, and breathable - the straps haven't bothered my neck or shoulders despite being a classic racerback style. I'd definitely recommend this to anyone looking for a light impact (or a medium impact if your chest is on the smaller side) workout bra.
08/24/2020
consumer
Hong Kong SAR China
Very Comfortable and Very Soft
I have always hated wearing sports bras because they are always too tight and uncomfortable. I needed a very comfortable bra that I could wear daily as I'm working outside (I'm a sheep farmer). I saw this bra and decided to give it a try. When I first took it out of the package, I immediately noticed how very soft the fabric is. I loved the feel of the fabric on my skin. I ordered an XL which fits me snug but not tight at all. I did not buy this to go jogging or jumping exercise and it's not tight-fitting enough to do either. I washed it according to manufacturers instructions and it is still wonderfully soft. I give this five-stars for comfort!
08/24/2020
Elen
Hong Kong SAR China
A very comfortable sports bra best for low impact aerobics or work out
I own two of these but just had to throw one away as it had completely stretched out after many many years of use. The other newer one is just fine. I could not remember the size I bought...small or medium. I searched through the reviews to try and find my match. I'm 5'3", 126lbs and wear a 34C bra - I went for the Medium - it's perfect. I do a low impact gym routine with the odd bursts of a run. If you're looking for a sports bra to hold everything firmly in place when you're running marathons or jumping up and down then this probably isn't for you. No I wouldn't wear it without a top over it as yes your headlights will show. If you're looking for a very stretch, very comfortable sports bra for low impact aerobics/gym work out, that doesn't cut in to your chest and make you feel strapped in, then this is the one for you.
08/24/2020
M. Swingler
Hong Kong SAR China
Pleasantly surprised!
I didn't think this sports bra would provide enough support, but I'm pleasantly surprised! It's very comfortable and so far (3 runs) it has worked well for support. I am a 34D and have usually bought sports bras with clasps because they are typically higher impact. However, they are not as comfortable and the clasps inevitably start bending out of shape after repeated wears. I'm super excited that this style works and provides enough support because it is very lightweight and comfortable. I am however, using it in winter when I am wearing multiple layers. But I still think it will work well even in just a tank top. Recommended even for larger bra sizes!
08/24/2020
Richard a.
Hong Kong SAR China
~~ 3 months in and still going strong ~~
Ordering MEDIUM for my 34C size I LOVE these Racerback Sports bras HOWEVER although I wear them regularly I am NOT a jogger and nor would I want to wear them jogging as there is, in my opinion, not enough support for that activity. Hiking, biking etc? No problems! I do these regularly. I have had both the pink and blue bras for three months now and have washed them numerous times. They have even been in the dryer. Still provide good support and I have had absolutely NO issues with them. Would definitely recommend this sports bra and will buy more when these wear out! IMPORTANT to note that due to its design your bra straps may show under your t-shirt as the straps do come pretty close to the neck. Doesn't bother me as I have shoulder length hair but to others it might. This is not a fault with the bra but a feature due to the design. I purchased these bras at the full prevailing price. I was not required to write a review but chose to do so. Thanks, Liz